The Proper Chiropractic team is committed to creating a comfortable and relaxing environment for each patient. Ultimately, we want you to feel right at home from the moment you walk through our doors. As such, we want to introduce you to our incredible team. Get to know us before you set foot in our office! Read our team bios and qualifications below.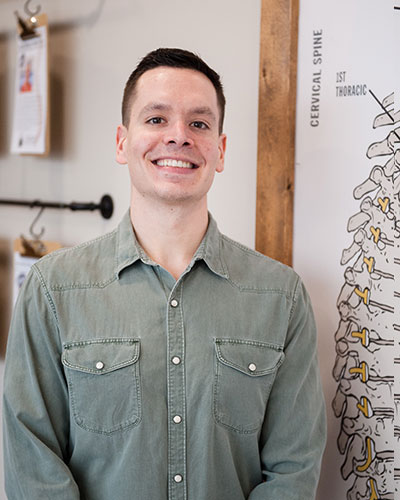 Dr. Patrick has been passionately obsessed with health his entire life. He grew up in Aurora and finished his undergraduate program at DePaul University with a degree in Physical Education. He became a P.E. teacher at St. Paul the Apostle Catholic School as well as their athletic director. Dr. Patrick also coached football at Waubonsie Valley High School, basketball at Rosary High School, and softball at Joliet West High School.
Dr. Patrick furthered his interest in health and the human body at Northern Illinois University where he received his master's degree in exercise physiology. It was at that point that Dr. Patrick became aware of the benefits of chiropractic care. He was being seen by a local chiropractor for athletic injuries, but after getting regular adjustments he started to notice he was also sleeping better, feeling more mental clarity in school, and experiencing less
anxiety! This became Dr. Patrick's clear purpose in life. He attended Parker University in Dallas to receive his doctorate where he also met the love of his Life, Leslie!
Chiropractic, family, friends, and a healthy lifestyle are what Patrick is most passionate about. In his free time though he enjoys weightlifting, and watching his beloved Cubs and Chicago Bears!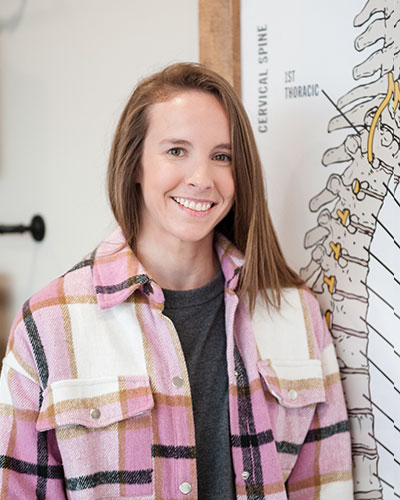 Proper Chiropractic Office Manager
Leslie is the driving train behind the momentous practice of Proper Chiropractic. Leslie was involved in athletics her whole childhood and started ice skating when she was 7 years old! She skated competitively all the way through high school and college at the University of Western Michigan.
After college Leslie fell in love with 3 things; teaching, CrossFit, and chiropractic! Leslie taught sixth grade English for several years where she got extensive experience working with kids. It was at this time that she realized how stress was taking a significant toll on all of our children and how it impacts them in the classroom. It was at that time that she decided to pair up with her fiancé and open an office where whole families could come for hope and healing.
She and Dr. Patrick flew all over the country learning the best chiropractic techniques for children, pregnant moms, and families. Leslie also has a beautiful 7-year-old daughter named Lena who loves math, puppies, and getting adjusted!
With Dr. Patrick and Proper Chiropractic, you can rest assured you're in good hands. With a custom approach for each person, you can count on us to get you the care you need and deserve. Uncover the benefits of chiropractic care and book your appointment with the Proper Chiropractic team today.