During the last century, chiropractic practices and techniques evolved, expanded, and improved — helping countless individuals obtain a higher state of health. From these innovations, the Torque Release Technique (TRT) and the Webster Technique emerged. These proven, safe, and effective techniques are the backbone of the Proper Chiropractic practice, allowing us to serve our patients in the best way possible. 
Dr. Patrick has vast experience applying these specific techniques, guiding various individuals toward peak health and wellness. The Proper Chiropractic team is further dedicated to staying up-to-date on all the latest practices and innovations regarding these treatment methods. With us, you know you're getting the care you need and deserve.
The Torque Release Technique (TRT)
The Torque Release Technique (TRT) is considered the most effective and precise chiropractic technique. Using non-invasive methods, TRT corrects spinal subluxations and misalignments, allowing your brain and body to communicate effectively and efficiently. TRT is suitable for all ages, providing a gentle and effective healing approach.
Understanding Torque Release Technique
TRT is a very targeted chiropractic technique, and is highly regarded in the chiropractic field of care. TRT precisely pinpoints neurological imbalances, guiding the body toward recovery. At Proper Chiropractic, our team is dedicated to delivering the highest quality of care, which is why we employ the use of this technique.
The precision that TRT provides allows us to target very specific areas of the body. With the use of a special instrument called the Integrator, Dr. Patrick makes fine adjustments in the exact areas of misalignment. 
TRT offers a drug-free and non-invasive approach to healing. Using only gentle adjustments, involving zero popping, twisting, or cracking, we are able to realign the spinal column, improve brain-body communication, and correct neurological impairments.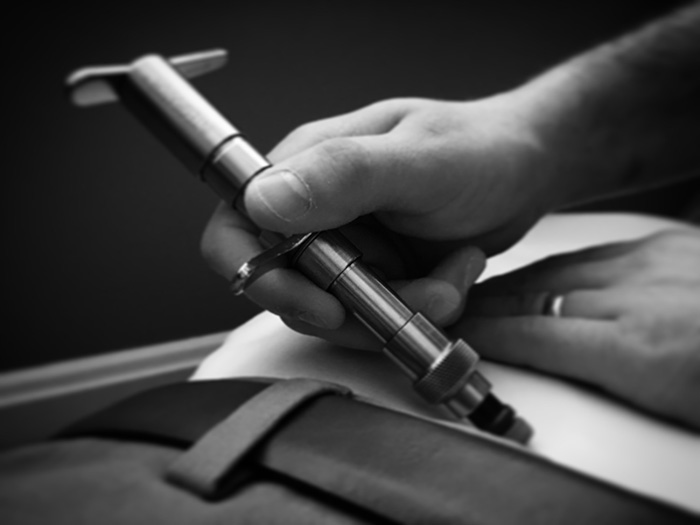 Improving Your Spinal Health
TRT uses pain-free and gentle pressure to guide your spine back into alignment. When your spine is aligned, the rest of your body functions with that much more ease. This further opens up the communication pathways between the brain and your body as obstructions are eliminated and everything is able to function as it should.
When it comes down to it, improved spinal health means improved whole-body health. By maintaining a properly aligned spine, you can achieve your body's full potential, unlocking your highest state of health.
What Ages Can Benefit From Chiropractic?
TRT is suitable for all ages. From newborns to seniors, anyone can benefit from this non-invasive and specific chiropractic technique. The Proper Chiropractic team encourages individuals at any age to book a chiropractic appointment. It's never too early or too late to improve your health and wellness.
How Quickly Does It Work?
The truth is every person and every body is different. The time frame for healing and recovery varies based on many factors, such as age, current health status, and more. Many individuals notice immediate improvements. Other individuals may require multiple adjustments before they experience relief. After your initial assessment, the Proper Chiropractic team can determine a time frame appropriate for you and your situation.
The Webster Technique is a safe and effective chiropractic adjustment, helping pregnant women experience a more comfortable and easier pregnancy. Dr. Patrick has extensive experience applying this technique, always putting the comfort of mother and baby first. The Proper Chiropractic team also attends regular training, staying up-to-date on all the latest practices relating to the Webster Technique. You can rest assured that the Proper Chiropractic team uses only the safest and most reliable chiropractic techniques to help guide you toward improved wellness.
Understanding Webster Technique
Pregnancy comes with various changes within the body. And some of these changes can lead to varying degrees of aches, pains, and discomforts, specifically those involving the pelvis and spine. The Webster Technique works by realigning the pelvis and sacrum, decreasing any pain and even making the birthing process easier and faster.
How Webster Technique Works

The webster technique decreases tension and stress in the uterus by reducing pelvic and lower spine misalignments. In turn, this creates more space for the baby to be comfortable in the womb. This technique has been reported to reduce labor pains and delivery times for many mommas! That is why it is so important for moms to be under chiropractic care before, during, and after their pregnancy.
Improving Your Spinal Health
With proper spinal alignments, you'll experience improved spinal health leading to a healthier and more comfortable pregnancy. With regular chiropractic adjustments throughout your pregnancy, you support your body and your child's health, giving them the chance to enter this beautiful world with as little stress as possible.
How Quickly Does It Work?
While the Webster Technique frequently results in a healthier and more comfortable pregnancy, the time frame in which you experience relief may vary depending on your specific situation. At Proper Chiropractic, Dr. Patrick encourages all pregnant women to schedule regular chiropractic appointments for an optimal pregnancy and birth, as well as a smoother recovery post-birth.
With Dr. Patrick and Proper Chiropractic, you can rest assured you're in good hands. With a custom approach for each person, you can count on us to get you the care you need and deserve. Uncover the benefits of chiropractic care and book your appointment with the Proper Chiropractic team today.